Imagine yourself strolling along the sandy shores of California's iconic Huntington Beach, with the cool ocean breeze in your hair and the warm sun on your skin. As you make your way along the coastline, the crashing waves beckon you, inviting you to discover the enchanting beauty that lies beneath the surface. This article will serve as your guide, unveiling the hidden treasures and unique experiences that await you as you explore the beaches of Huntington Beach. So grab your sunblock and get ready to embark on a thrilling seaside adventure like no other.
Overview of Huntington Beach
Location and Size
Huntington Beach, located in Southern California, is a vibrant coastal city known for its pristine beaches and picturesque views of the Pacific Ocean. Situated in Orange County, this beach-centric community spans approximately 27 square miles, offering plenty of space for visitors and residents to explore and enjoy the outdoors.
Climate
One of the reasons Huntington Beach is such a popular destination is its pleasant Mediterranean climate. With an average of 278 sunny days per year, you can expect to experience warm temperatures and gentle ocean breezes. Summers are typically warm and dry, with temperatures ranging from the mid-70s to the high 80s°F. Winters are mild, with temperatures averaging in the mid-60s°F.
History
Huntington Beach has a rich history that captures the essence of California's coastal culture. It was originally inhabited by the Tongva people, who lived in harmony with the land and sea. In the early 1900s, the discovery of oil brought a wave of development to the area, transforming it from a quiet seaside town into a bustling city. Today, Huntington Beach embraces its past through its various historical landmarks and deep-rooted appreciation for surf culture.
Beach Activities
Surfing
Known as "Surf City USA," Huntington Beach is a haven for surfers of all skill levels. The city boasts some of the best waves in California, attracting surf enthusiasts from around the world. Whether you're a seasoned pro or a beginner looking to catch your first wave, you'll find ample opportunities to ride the swells and experience the thrill of surfing.
Beach Volleyball
Huntington Beach is famous for its beach volleyball scene, with numerous courts scattered along the shoreline. Grab a ball and join a game with locals or simply sit back and watch as seasoned players showcase their skills. The beach volleyball courts are always bustling with energy and provide a fun and active atmosphere for visitors of all ages.
Swimming
With its pristine and inviting waters, swimming in Huntington Beach is an enjoyable experience for all. Lifeguards patrol the beaches, ensuring the safety of swimmers and creating a worry-free environment for families. Dive into the refreshing waves, soak up the sun, and let the ocean rejuvenate your spirit.
Kayaking and Paddleboarding
For those seeking a more leisurely water activity, kayaking and paddleboarding are excellent options. Launch your kayak or paddleboard from the beach and explore the scenic coastline, taking in the breathtaking views of the Pacific Ocean. The calm waters provide a serene setting for a peaceful adventure on the water.
Fishing
Huntington Beach offers fantastic opportunities for fishing enthusiasts. Whether you prefer pier fishing or casting your line from the shoreline, you'll have a chance to catch a variety of fish species, including halibut, bass, and mackerel. The city's fishing-friendly atmosphere and beautiful coastal landscapes make it a prime spot for anglers of all levels of experience.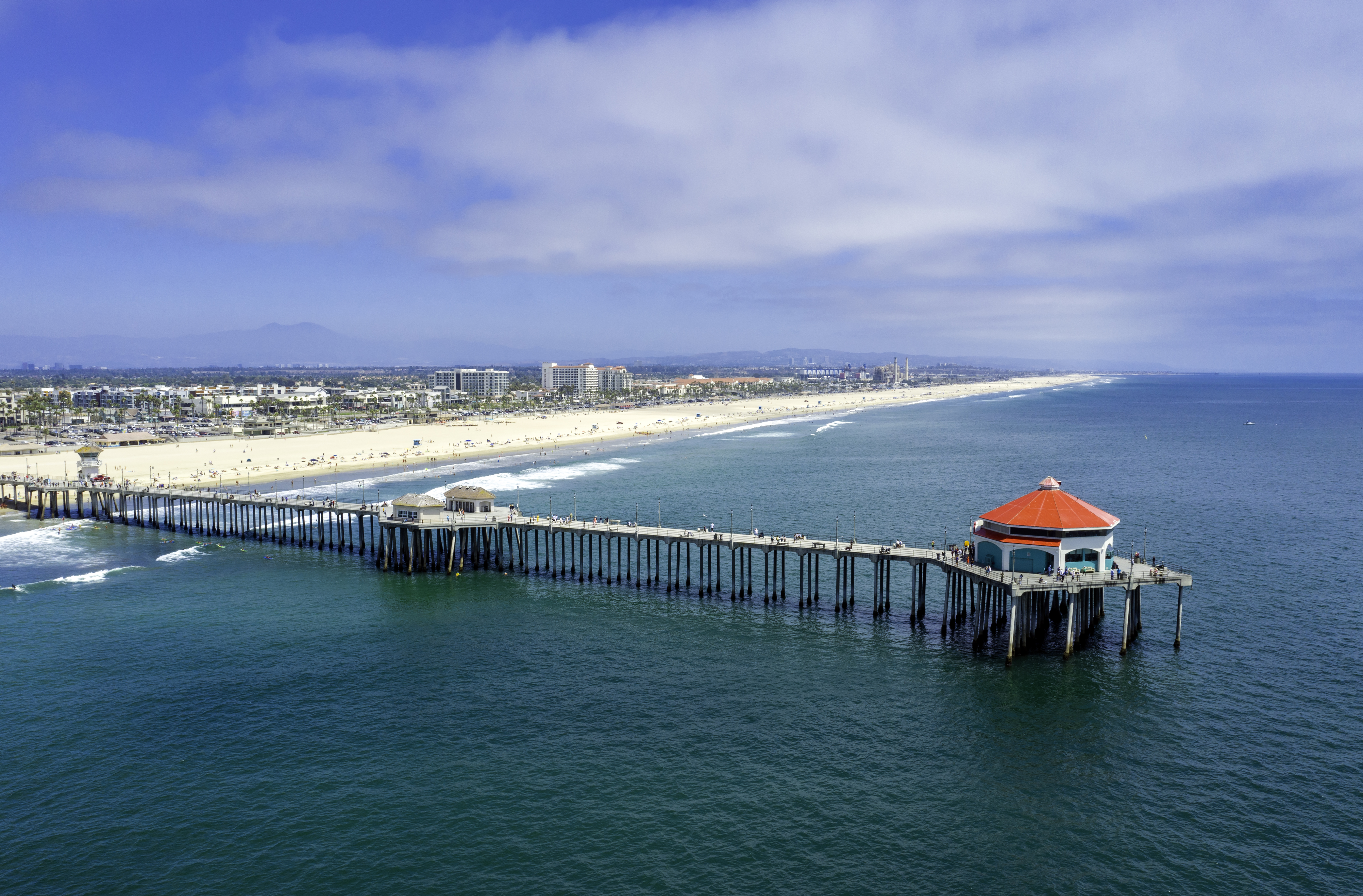 This image is property of res.cloudinary.com.
Best Times to Visit
Summer Season
Summer is the peak season for visitors to Huntington Beach. The warm temperatures and clear skies create the perfect conditions for outdoor activities and beach fun. From June to August, the beaches are bustling with excitement, as families, surfers, and sun-seekers flock to the shores. Be prepared for large crowds and make sure to arrive early to secure a prime beach spot.
Spring and Fall
If you prefer fewer crowds, the shoulder seasons of spring and fall are ideal times to visit Huntington Beach. The weather during these months is still mild and pleasant, allowing for enjoyable beach days without the intensity of the summer heat. You'll have more space to spread out on the sand while still experiencing the beauty and charm of the city.
Winter Season
Although the winter season brings cooler temperatures, Huntington Beach still offers plenty of attractions and activities to enjoy. It's a quieter time of year, perfect for those seeking a peaceful retreat by the ocean. Bundle up and take long walks along the beach, admiring the stunning winter sunsets and listening to the soothing sounds of crashing waves.
Popular Beaches in Huntington Beach
Huntington City Beach
Huntington City Beach is the heart of the city's beach culture. Stretching for 3.5 miles, this iconic sandy oasis is perfect for sunbathing, playing beach volleyball, or simply strolling along the shore. With lifeguard towers strategically placed along the beach, you can feel secure knowing that safety is a top priority.
Bolsa Chica State Beach
Situated between Huntington Beach and the neighboring city of Seal Beach, Bolsa Chica State Beach offers a beautiful coastline and stunning views. This beach is popular among surfers, bird-watchers, and nature lovers. You can explore the impressive Bolsa Chica Ecological Reserve adjacent to the beach, home to a variety of bird species and other wildlife.
Dog Beach
Huntington Beach is a pet-friendly destination, and Dog Beach is the perfect place to let your furry friend run free. This dedicated stretch of beach allows dogs to frolic in the sand and waves off-leash. It's a great spot for both dogs and their owners to enjoy a day of sun, surf, and socializing with other four-legged companions.
Huntington State Beach
Huntington State Beach boasts picturesque views, white sandy shores, and rolling waves, offering visitors a quintessential Southern California beach experience. This beach is ideal for swimming, sunbathing, and picnicking, with ample space to unwind and soak up the coastal beauty. RV camping is also available, allowing visitors to extend their beach stay.
Sunset Beach
Nestled between the cities of Huntington Beach and Seal Beach, Sunset Beach boasts a relaxed and laid-back vibe. The beach's name perfectly reflects its most celebrated feature: stunning sunsets. Enjoy beachcombing, surfing, and taking leisurely walks on the sand while taking in the breathtaking colors of the setting sun.
This image is property of assets.simpleviewinc.com.
Iconic Landmarks
Huntington Beach Pier
The Huntington Beach Pier is a symbol of the city's vibrant beach culture and serves as a focal point for locals and visitors alike. Stretching 1,850 feet into the Pacific Ocean, this iconic landmark offers stunning panoramic views of the coastline. Take a leisurely stroll along the pier, watch surfers catch waves below, and enjoy the cool ocean breeze.
International Surfing Museum
Huntington Beach is known as the birthplace of surfing in the United States, and the International Surfing Museum pays homage to this rich surfing heritage. Located just steps from the beach, the museum showcases an impressive collection of surfboards, memorabilia, and artwork that highlight the evolution of the sport and its impact on the local community.
Bolsa Chica Ecological Reserve
The Bolsa Chica Ecological Reserve is a hidden gem encompassing over 1,300 acres of wetlands and native habitats. This sanctuary is home to numerous bird species, making it a paradise for bird-watchers and nature enthusiasts. Explore the walking trails, learn about the ecosystem's delicate balance, and appreciate the beauty and tranquility of this coastal oasis.
Pacific Coast Highway
The Pacific Coast Highway (PCH), also known as California State Route 1, stretches along the entire California coastline. As it passes through Huntington Beach, it offers breathtaking views of the ocean and access to various beaches and attractions. Take a scenic drive along PCH and soak in the beauty of the coastline, stopping at lookout points to capture memorable photos.
Huntington Central Park
Huntington Central Park is one of the largest city-owned parks in Orange County, providing a serene escape from the bustling beach scene. This expansive park offers a wealth of recreational activities, including walking trails, picnic areas, and beautiful gardens. It's the perfect place to relax, recharge, and enjoy the natural beauty that Huntington Beach has to offer.
Family-Friendly Beaches
Huntington City Beach
Huntington City Beach is an excellent destination for families. The wide sandy beach offers plenty of space for children to build sandcastles, fly kites, and play beach games. With lifeguards on duty and gentle waves, parents can relax knowing that their little ones can safely enjoy the water. The nearby amenities, including restrooms and restaurants, cater to the needs of families.
Bolsa Chica State Beach
Families will also enjoy visiting Bolsa Chica State Beach, which provides a family-friendly atmosphere. With a designated picnic area, ample parking, and convenient amenities, it's easy to spend the day exploring the beach and enjoying quality time with loved ones. The tranquil waters are perfect for youngsters to splash around, making it an ideal spot for a family beach outing.
Dog Beach
While Dog Beach is known as a haven for furry friends, it also welcomes families with children. Kids can play in the sand alongside their canine companions, creating lasting memories of carefree beach adventures. The laid-back atmosphere and vibrant community of dog owners make it a unique and enjoyable experience for the whole family.
Shipley Nature Center
Located near Huntington Central Park, the Shipley Nature Center is an educational and interactive destination for families. This 18-acre nature reserve offers trails where families can explore native habitats, spot wildlife, and learn about the importance of environmental conservation. It's an excellent opportunity to connect with nature and instill a love for the outdoors in children.
Adventure Playground
For a truly unforgettable experience, families can visit the Adventure Playground in Huntington Central Park. This one-of-a-kind playground allows children to engage in unstructured playtime, building forts, climbing structures, and exploring their imaginations. With ample shade and picnic areas, it's the perfect spot for families to spend a day of outdoor fun.
This image is property of dynamic-media-cdn.tripadvisor.com.
Hidden Gems
Seacliff Village Park
Nestled within the Seacliff Village neighborhood, Seacliff Village Park is a peaceful oasis away from the crowds. This hidden gem features beautiful landscaping, serene ponds, and walking paths. Take a leisurely stroll, have a picnic, or simply enjoy the tranquility of this charming park.
Huntington Dog Beach Trail
The Huntington Dog Beach Trail is a hidden treasure for both dog owners and nature lovers. This scenic trail follows the coastline and provides access to Huntington Dog Beach, allowing you to explore the shoreline and observe playful dogs enjoying the waves. It's a fantastic spot to walk your dog, soak in the ocean views, and connect with fellow dog enthusiasts.
Huntington Cliffs
Huntington Cliffs offers a breathtaking coastal vista that is often overlooked by visitors. Located south of the Huntington Beach Pier, the cliffs offer stunning panoramic views of the ocean and coastline. Take a peaceful walk along the path that winds through the cliffs, reveling in the beauty of the rugged bluffs and the rhythmic crashing of waves.
Santa Ana River Trail
For outdoor enthusiasts seeking a bit of adventure, the Santa Ana River Trail is a hidden gem waiting to be discovered. This 30-mile trail stretches along the banks of the Santa Ana River and offers a mix of paved and dirt paths for walking, jogging, and biking. Immerse yourself in nature as you pass through lush landscapes, urban parks, and scenic vistas.
Bolsa Chica Wetlands
The Bolsa Chica Wetlands is an ecological marvel hidden within the bustling city environment. This 1,300-acre wetland reserve provides a unique habitat for a wide variety of plants, birds, and other wildlife. Explore the nature trails and enjoy the serenity of this natural sanctuary, while learning about the importance of wetland conservation.
Beachfront Dining
Duke's Huntington Beach
Named after legendary Hawaiian surfer Duke Kahanamoku, Duke's Huntington Beach offers a laid-back beachfront dining experience. Savor Hawaiian-inspired cuisine while enjoying stunning ocean views from the restaurant's patio. Whether you're stopping by for a casual lunch or a sunset dinner, Duke's is a must-visit for a true taste of Huntington Beach.
Sandy's Beach Grill
Located right on Bolsa Chica State Beach, Sandy's Beach Grill offers a relaxed beachfront dining experience. Enjoy delicious food and refreshing drinks while taking in panoramic views of the coastline. Live music and a welcoming atmosphere make Sandy's a great spot for enjoying a meal or catching up with friends.
Simmzy's
Simmzy's is a local favorite known for its craft beer and mouthwatering pub-style fare. Located just steps away from Huntington City Beach, this beachside gastropub offers a laid-back ambiance and a menu that showcases fresh, locally sourced ingredients. Sit back, relax, and enjoy a cold brew and hearty meal after a day in the sun.
Hyatt Regency Resort & Spa
The Hyatt Regency Resort & Spa is not only a luxurious place to stay, but it also boasts an array of dining options with stunning beachfront views. From a casual poolside eatery to a fine dining restaurant serving innovative coastal cuisine, the Hyatt Regency offers a range of culinary experiences to satisfy every palate.
The Cliff Restaurant
Perched atop a bluff overlooking Laguna Beach, The Cliff Restaurant offers breathtaking panoramic views of the ocean. While not technically in Huntington Beach, this nearby gem is worth a visit. Indulge in California-inspired cuisine, sip your favorite cocktail, and be captivated by the stunning sunset views from the restaurant's spacious outdoor patio.
This image is property of www.californiabeaches.com.
Outdoor Activities
Bike Riding
Huntington Beach's extensive bike trails make it a paradise for cycling enthusiasts. Cruise along the beachfront boardwalk, pedal through scenic neighborhoods, or explore the city's parks and nature reserves on two wheels. Biking is a fantastic way to experience the coastal beauty and enjoy the fresh ocean air.
Beach Bonfires
Gather your friends and family and experience the magic of a beach bonfire. Huntington Beach allows visitors to enjoy the quintessential beach experience by providing fire pits for beachfront bonfires. Roast marshmallows, tell stories under the starry sky, and create lasting memories around the crackling flames.
Beach Yoga
Unwind, stretch, and find your inner zen with beach yoga in Huntington Beach. Numerous yoga studios and instructors offer classes right on the sandy shores, allowing you to connect with the elements and renew your mind, body, and soul. Find your balance as you listen to the calming sound of crashing waves.
Skateboarding
Huntington Beach has long been associated with skateboarding culture. The city is home to various skate parks and offers a multitude of skateboarding opportunities, from cruising along the boardwalk to practicing tricks in dedicated skate areas. Embrace the spirit of California's skate scene and enjoy the exhilaration of gliding on four wheels.
Hiking Trails
Although best known for its beaches, Huntington Beach also boasts picturesque hiking trails that offer a different perspective of the city's natural beauty. Explore the trails at Huntington Central Park, Shipley Nature Center, or the Bolsa Chica Wetlands to immerse yourself in nature, spot wildlife, and enjoy a peaceful walk surrounded by scenic landscapes.
Events and Festivals
US Open of Surfing
The US Open of Surfing is a highly anticipated annual event held in Huntington Beach. Drawing professional and amateur surfers from around the globe, this prestigious competition showcases impressive athleticism and incredible wave-riding skills. Beyond surfing, the event also features live music, vendor booths, and a lively atmosphere that captures the essence of surf culture.
Cruisin' for a Cure
Cruisin' for a Cure is a unique car show held in Huntington Beach with a charitable twist. This event aims to raise awareness and funds for prostate cancer research. Car enthusiasts can admire an impressive display of classic and custom vehicles while contributing to a worthy cause. It's a fun-filled day for the whole family to enjoy.
Surf City USA Marathon
The Surf City USA Marathon is an annual event that attracts thousands of runners from around the world. Offering a scenic route along the coastline and through the city, this marathon allows participants to experience the beauty of Huntington Beach while challenging themselves physically. Whether you're a seasoned marathoner or a novice runner, the energetic spirit of this event is sure to inspire.
Bolsa Chica Conservancy's Wetland and Beach Cleanup
As a community that values environmental preservation, Huntington Beach hosts regular beach and wetland cleanups organized by the Bolsa Chica Conservancy. These events provide an opportunity for locals and visitors to give back to the community by volunteering to restore and maintain the natural beauty of the city's beaches and wetlands.
Concerts on the Sand
During the summer months, Huntington Beach hosts a series of Concerts on the Sand, featuring live music performances on the beach. Grab your beach chair or blanket, sit back, relax, and enjoy the melodious tunes while being immersed in the stunning coastal ambiance. From local bands to well-known musicians, these concerts offer something for everyone to enjoy.
Whether you're a beach enthusiast, outdoor adventurer, or simply seeking a relaxing escape by the ocean, Huntington Beach offers a wealth of opportunities to enjoy the Southern California coastline. From surfing to beach volleyball, beachfront dining to hidden gems, this vibrant city has something for everyone. So pack your sunscreen, grab your beach towel, and get ready to experience the beauty and adventure of Huntington Beach.
This image is property of www.californiabeaches.com.